This is a simple widget plugin to display the contents of a text file within a sidebar widget.
There are only two configuration options, both accessed via the widget control panel:
Title: Display a Title – if you don't want a title, don't enter one.
Filename: The full path to the text file. Only text will be displayed.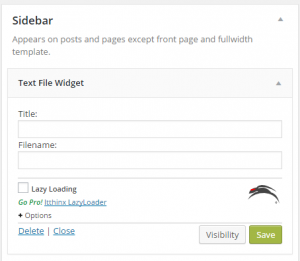 This plugin is now live on WordPress.Org. Current version is 1.2, although there is very little difference between the early versions – I had to be creative with version numbers to get the readme, banner and icon files to work.
If you find this plugin useful, please consider making a small donation: