By
q292u
My first plugin – "Text File Widget" is now live on the WordPress Plugins Repository.
It's a proper job – complete Readme.Txt file, Banner, and Icon.
Looks great!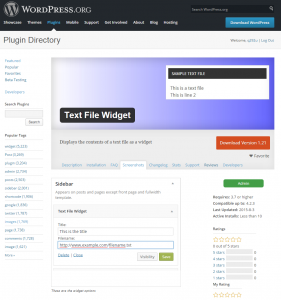 Here's the link: ** Sorry- this plugin has now been withdrawn **
It's a very simple plugin, all it does is display the contents of a text file as a widget. I couldn't believe that there wasn't already a plugin for this, so I wrote one..
It replaces end-of-line characters with a "
" for clarity.
Here's the plugin page: https://www.q292u.com/plugins/text-file-widget
Any problems with it, contact me via WordPress.Org (hit the plugin's "support" link) – let's do everything properly!
** UPDATE: this plugin has now been withdrawn due to possible security issues.  **
** No further updates will ever be issued **
** Hence I have removed the download link above **